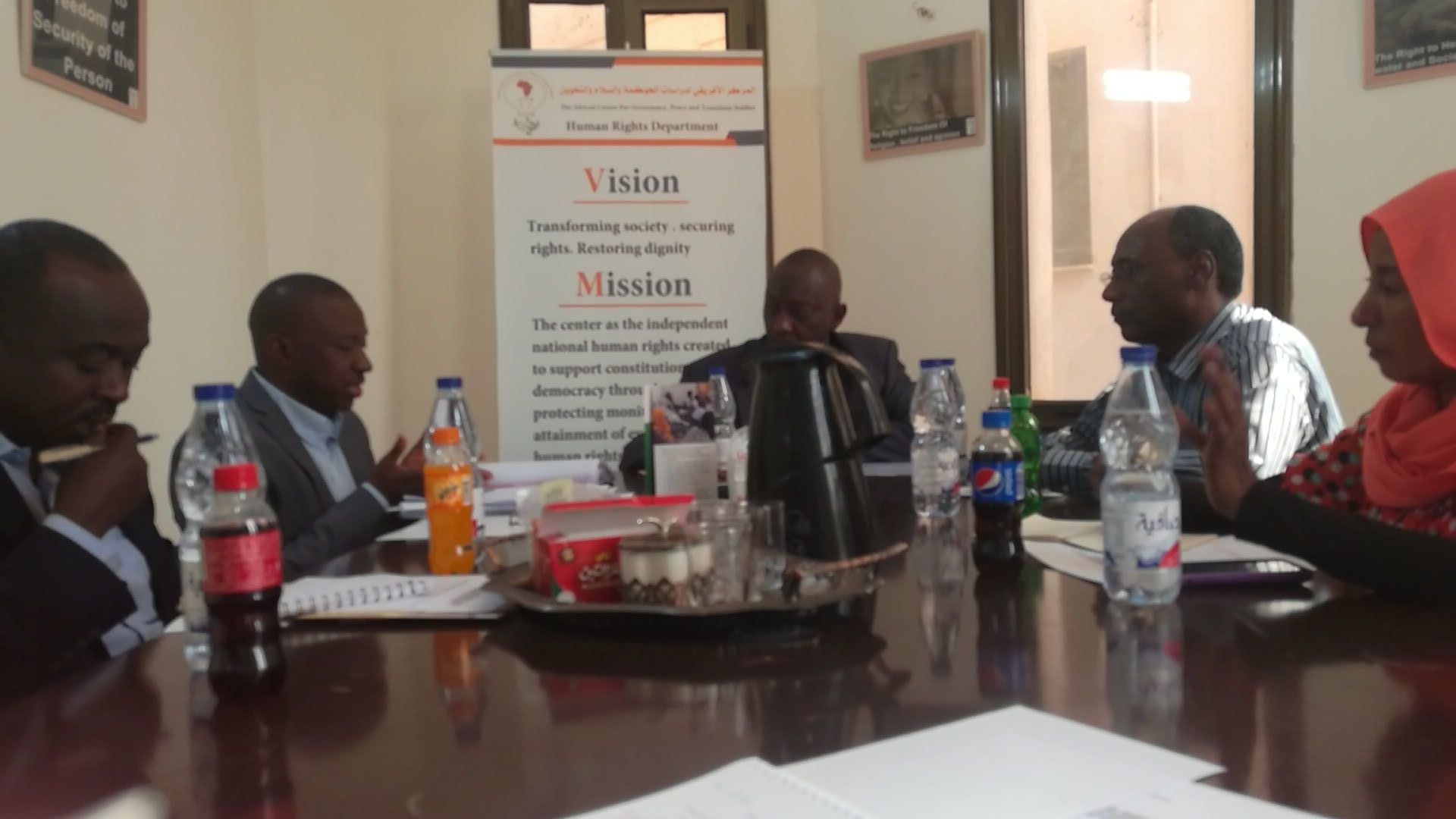 Who we are
Who we are
African Center for Governance, Peace & Transition Studies
(AcoGaps)
Who we are
African Center for Governance, Peace & Transition Studies
(AcoGaps)
The African Center for Governance, Peace & Transition Studies (AcoGaps) is a Khartoum based non-profit organization established in 2019. We aim to be one of Africa's leading institutions working to support the transition countries in Africa through programs, trainings and advisory services on: good governance, peacemaking, peace building, conflict prevention, protection of civilians, countering violent extremism (CVE) and migration.
Vision:
To be the premier African institution for knowledge, and policy interventions in governance, peace, development and transition.
Mission:
To offer quality services and capacity building in the fields of peace, security, governance and transition to communities and stakeholders while fostering stability in Sudan and other countries in Africa.

 
AcoGaps provides countries with advisory support and essential services, and seeks to establish support from international organizations to reinforce and strengthen the efforts of countries to improve security, peace, and justice – primarily in conflict-affected and fragile states. Additionally, AcoGaps develops and promotes appropriate transition norms at the national and regional level; advocates best practices; conducts policy-related research, and makes recommendations to ensure effective governance and transition. AcoGaps partners include governments, parliaments, civil society, private sector, international organizations, and a range of peace and security systems, namely police, judiciary, and prosecution.
AcoGaps works through a network of senior consultants in Africa, including Sudan, and around the world. The consultants specialize in tackling the challenges of transition and promote change through training, advocacy and advisory services. AcoGaps strives to assist countries in managing transitions such as:
War to peace

Insecurity to security

Crisis to positive change

Relief to development

Poverty to self-reliance

Exclusion to inclusion
We understand that context is often as important as the scope of a program or project, therefore, we employ context-sensitive solutions such as conflict and gender-sensitive approaches, while striving for the broadest possible participation of stakeholders and communities.
Transitions are difficult and often painful, but also provide a window of opportunity for positive changes in society and the economy. We believe that the benefits of any transition must be reaffirmed by actors (i.e., governments, civil society and businesses) in transition processes as a means to achieve a positive outcome. Therefore, AcoGaps provides knowledge, training, advocacy and advisory services to key actors involved throughout the different transition stages for a sustainable, inclusive and transparent transition.
 AcoGaps is committed to providing governments, international agencies, NGOs and research institutions with high-quality and cost-effective services, including a clear focus on the end result.
AcoGaps offers high quality applied research, contextual analysis, coherent policy and strategy development, program design and evaluation, as well as training in specific form by its team of field staff, partners, associates and consultants. This team of highly specialized professionals covers a wide variety of technical fields which are essential in the transition process such as:
Rule of Law, Human Rights and Protection of Civilians
Security Sector Reforms (SSR) and Countering Violent Extremism and Terrorism (CVET)
Peace building, Conflict Transformation, Transitional Justice, Mediation and Dialogue
Gender and Social Inclusion
Migration and Human Trafficking
Psychosocial and Trauma Healing
Youth and Children
Arms Control, Demining and Disarmament, Demobilization and Reintegration (DDR)
Employment, Employability and Durable Solutions
Core Values:
• Integrity
• Diversity and inclusiveness
• Respect and fairness
• Teamwork
• Transparency and accountability
• Pursuit of excellence